Arcana: Guardian of Magic is one of the Guardians. She is the second unlocked Guardian you can get without level required and by defeating Ice Queen in the "Smoke and Mirrors" event. Or you can unlock her in the missions.
Bio: This sly illusionist has a few tricks up her sleeve. She can clone sidekicks and harness their powers for unique spell combos.
Availability: Defeat the Boss Ice Queen (or complete some event Missions) and get a chance to receive this Guardian as a Reward from the Magical Chests.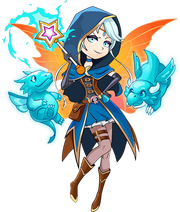 Her lore information is currently unavailable.
Voice responses
Edit
Equip
Truth is in the eye of the beholder!
Get the item
Now that's real.
It's magic!
Seeing is believing.
Time for a show!
Watch closely! (high voice)
How about my little secret?
Thank you, thank you.
Impressive. (low voice)
Impressive! (high voice)
Magic Spell Form
ALAKAZAM!
And for my next trick!
Watch closely. (low voice)
(unknown)
In Quest
In the blink of an eye!
Dying
Ahh~
It's just an illusion...
Smoke and mirrors.
NOTE:
All of the voice responses that more than one are exist randomly in gameplay;
The dubber of the Guardians is still unknown;
There's an unknown voice response. Please help EverWing Wiki by expanding it.